Downey Studios
From October 2012 the studios were demolished to make way for a new shopping complex.
See Curbed LA postings about the development.
An article (http://www.presstelegram.com/news/ci_19802192) from 2012 states that the studios lost $13 million in the last seven years and cannot continue to trade.
A large portion of this must relate to the controversy over health issues at the former NASA plant (see History page).
By April 2013, the site had been completely cleared. The admin buildings remaining from the Vultee days are still there, but in very poor condition.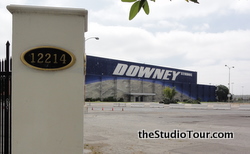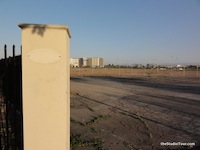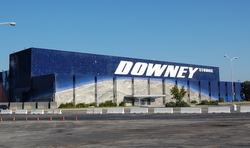 From the official Downey Studios website (2010):
"The Downey Studios is a production studio in Downey, California. The studio features 80 acres (320,000 m2) of indoor and outdoor production space including a 50,000-square-ssfoot (4,600 m2) building and a 250,000 sq/ft building which is home of the largest indoor water tank in North America. A suburban residential street backlot with 5 complete homes and 11 facades is also available at the studio. "
Address
12214 Lakewood Boulevard, Downey, CA 90242
Stage 1 at Downey Studios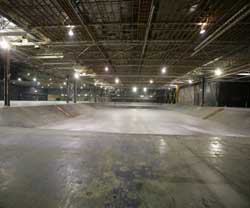 More Information
Health Issues at Downey