20th Century Fox Studios - Buildings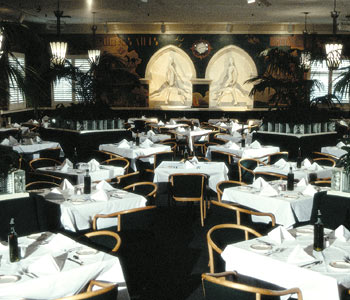 Commissary
The Commissary at Fox Studios is believed to be the oldest unchanged studio commissary still in existence.
It was originally called the Cafe de Paris as it was built on the site of one of the semi-permanent sets, a French restaurant.
The star-studded mural featuring Janet Gaynor, Warner Baxter and Will Rogers was unveiled in 1935 and can still be seen to this day. Shirley Temple was added to the design a few years later. The art deco style of the building is delightful.
The original studio layout had a circular driveway leading to the commissary. When Darryl F. Zanuck took over the studio in 1935, he brought his own chef with him, who formerly ran a deli in New York.
Although the commissary is not open to the public, it has been seen in many Fox movies and TV shows over the years.
Back to
See also